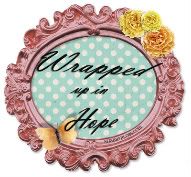 There are quite a few talented artists and artisans out there whose lives have been touched by pregnancy and infant loss. They take pictures, write names, paint, bead, sew ... and more, but all to memorialize our sweet babies. I can't even begin to find the words to express my gratitude for the things I have received with my babies names on them. We will never take pictures of these babies first steps, never watch that first tooth grow in, never throw a first birthday party or any birthday party for these babies we lost too soon. But we gave them each a name ... a name picked especially for them and I just love seeing their names and having tiny things with their names on them.
I was blessed to recieve an email today from, Jennie, letting me know she had finished a precious gift for me. To see a picture of what she is sending me please
click here
She also has a fabulous personal blog about her life and loss and hope:

Edited to add this picture ... aren't they just beautiful!